Excursions to places of interest in Alicante
Altea, Torrevieja, Calpe… There is a multitude of places worth visiting in the province of Alicante if you are going to spend a few days with us. The Hotel Almirante team suggests the best options to have the best time as a couple, family or, and why not?, on your own.
Places of interest in Alicante
Alicante is a province rich in cultural and natural heritage. There are a large number of towns worth visiting all along the coast to appreciate the combination of Mediterranean architecture and maritime nature. Without doubt, this great mixture makes some places of interest in Alicante essential for, at least, an excursion.
The Hotel Almirante team encourages you to make the most of your stay with us and visit the province's different places of interest. Altea, Calpe or Agres are places we should not miss out on if we are in Alicante. Also, take a minute to browse through our highlighted places of interest, you could, without doubt, enhance your stay with a visit to any of them.
Altea
Altea is the first of Alicante's places of interest that we would like to draw your attention to. A town situated in the Marina Baja district of Alicante, it is famous for its large number of monuments which, if you are going to be spending the day there, are a must-see.
Among them, the Hotel Almirante team highlights some, such as the Fornet or the old town. This is the oldest part of Altea and full of narrow streets that are full of charm. The Paseo Marítimo (Seafront Promenade) is a place you should not miss to enjoy Altea's sea breeze and enjoy a drink on one of its terraces.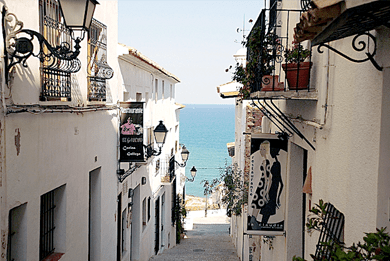 Calpe
Continuing with towns on the Alicante coast, Calpe is another unmissable place of interest. With its famous Peñón de Ifach (Rock of Ifach), it is the perfect place for a day's hiking up the most famous rocky massif on our coast.
The climb up the Rock of Ifach is totally prepared for walkers, although there are some stretches that are more complicated than others. The climb is hard but the views from the top are well worth the effort expended.
Agres
If we leave the coast and go inland into the interior of Alicante, beside the Sierra de Mariola (Mariola Mountain Range), we find the town of Agres. Surrounded by steep slopes, it is the departure point for a multitude of hiking trails through the mountains, a visit to the snow caves along the Ruta de les Caves (Route of the Caves) being highly recommended.
If you prefer something more peaceful, you can find the unique scenery at the Santuario de la Virgen del Castillo (Sanctuary of the Virgin of the Castle) in the highest part of Agres. A natural setting surrounded by vegetation and stony paths that is a delight for photography lovers.
***
Alicante has a large number of places of interest that are worth a day out. Discover what we suggest and, if you find any others, do not hesitate to tell us about them.
Our customers say
Verificada
Excelencia en el trato al cliente. La primera noche se nos presentó un problema y tanto el personal de recepción como la dirección del hotel se esmeraron en solucionarlo. Hicieron que nuestra estancia en el hotel superará nuestras expectativas con un trato exquisito en todo momento haciendo que nuestra estancia haya sido muy especial. Nos marchamos con la seguridad de que repetiremos sin duda.
Verificada
Gracias!!! En 2021 tuvimos la oportunidad de conocer este hotel en una escapada en pareja por la zona de Alicante, nos encantó y este año decidimos volver a pasar el fin de año en familia y todavía nos ha sorprendido más! 3 estrellas que bien podría ser 4, instalaciones sencillas pero con muy buen gusto, reformado (aunque esta vez la habitación triple que nos ha tocado no lo estaba), pero todo lo demás lo compensa!La cena de fin de año en el restaurante Pocardy que pertenece al hotel, nos han hecho sentir como si estuviéramos en casa. Especial mención a la camarera que nos atendió fenomenal, Toñi,gracias!Podía extenderme mucho más, han sido unos días muy especiales!!!!!!Volveremos seguro si Dios quiere!GRACIAS!!!!!
Verificada
Increíble experiencia Increíble vistas y super bonito y limpio el hotel en si,trato en recepción y el desayuno uno de los mejores que he probado.Recomiendo las habitaciones de frente al mar por las vistas si os gusta ver el amanecer es super bonito y si vienes con tu pareja te encantará.
Verificada
¡¡ Todo fenomenal, el hotel y su gente.!!! Fantástico rincón en la Playa de San Juan, El hotel tiene un encanto especial, muy acogedor arropado por las Palmeras y jardines de la entrada, así como la piscina que te llama poderosamente la atención . El edificio parece un vintage de Miami, el color de la fachada nos fascinó .El servicio de atención del personal tanto de recepción como del bar es inmejorable y si te fijas están constantemente pendientes de la limpieza y mantenimiento de los jardines.El restaurante , fenomenal , carta diversa y todo muy rico y si tomas en la terraza te encantará.Parking privado muy cómodo al igual que el acceso al paseo Marítimo ,paseo plagado de palmeras y la vista de la playa espectacular , vamos Playón …y todo amenizado con el pasar del Trenet .Es como si hubieras estado antes, me ha enamorado el lugar.
Verificada
A 5 star experience at a 3 star Hotel Cycled to San Juan from Benidorm to BBQ with friends and decided to stay at this beautiful hotel for the first time.For a 3 star it was excellent and I'm not going to mark it down for a couple of minor issues - no kettle in the bedroom and for me the bed wasn't the most comfortable. But really, very minor issues overall.The staff were excellent, the room was clean and spacious with a decent sized balcony overlooking the pool, there was a place to park our bikes, breakfast was superb, prices very reasonable and the location was fabulous.Booking again for November. Well done Almirante. (I notice a third of your reviews are English - we love a cup of tea in the mornings. Most of us would even pay a couple of Euros extra). Thank you for a lovely stay.
Verificada
Absolute heaven!!!! Stayed here for three nights. The panorama room on the 1st floor was just perfect. The decor was lovely and the view in the morning of the blue sea and sunrise was just out of this world. The pool was amazing and really clean. Location is great and San Juan beach is just beautiful with clear azur waters - and warm water! Would come back again and again.
Verificada
Great hotel, clean and quiet Lovely hotel and very clean. We had a corner room so had amazing views of both the pool and the beach. Both the room and the bathroom were a really good size with plenty of storage. This hotel is located in a quiet part of Alicante which suited us during the day. There is a limited bar service by the pool. We would have preferred it if the pool opened at 10am or a bit earlier - 10:30 am seemed quite late.There was a good selection for breakfast. We did eat in the hotel restaurant one evening. The food was tasty but the menu was quite limited and it was more expensive than other restaurants in the centre of Alicante. The mojitos were excellent!We went at the end of May which doesn't seem to be high season, as the restaurants near the hotel / beach weren't open in the evening. It was easy enough to get a tram to the main part of the town, with the tram station only five minutes walk from the hotel and the journey taking less than 15 minutes; this was also cheap. We got taxis back later which cost about 15 euros. Taxis to / from the airport took about 25 minutes and cost about 40 euros.We would definitely go back.