Excursions aux centres d'intérêt d'Alicante
Alicante est une province riche en patrimoine culturel et naturel. Le long de toute la côte, nous avons un grand nombre de villages qui méritent d'être visités pour contempler la fusion de l'architecture méditerranéenne et de la nature de la Méditerranée. Sans aucun doute, ce grand mélange fait que certains lieux d'intérêt à Alicante deviennent indispensables pour au moins une excursion
A l'Hôtel Almirante nous vous encourageons à profiter de votre séjour chez nous et à visiter les différents points d'intérêt de la province. Altea, Calpe ou Agres sont des endroits que nous ne pouvons pas laisser échapper si nous sommes à Alicante. Profitez également de l'occasion pour jeter un coup d'œil à nos meilleurs coins, vous pourrez sans aucun doute compléter votre séjour par une visite à l'un d'eux.
Altea
Altea est le premier des lieux incontournables d'Alicante que nous voulons mettre en valeur. Il s'agit d'une municipalité située dans la région d'Alicante de la Marina Baja. Elle est réputée pour la présence de nombreux monuments qui, si vous allez y passer la journée, sont de visite obligatoire.
De tous, de l'Hôtel Almirante nous mettons l'accent sur certains comme le Fornet ou la vieille ville. C'est le quartier le plus ancien d'Altea et il regorge de ruelles charmantes. Le Paseo Marítimo est un lieu obligatoire pour profiter de la brise marine d'Altea et prendre un verre dans une de ses terrasses.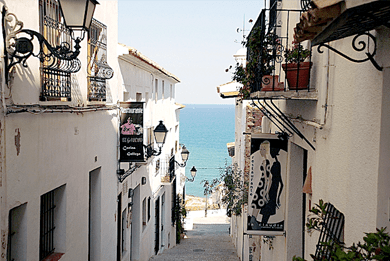 Calpe
En continuant avec les populations de la côte d'Alicante, Calpe est un autre des lieux incontournables. Avec son célèbre Peñón de Ifach, c'est l'endroit idéal pour une journée de randonnée le long du massif rocheux le plus célèbre de notre côte.
L'ascension du Peñón de Ifach est entièrement adaptée à la marche, bien qu'il y ait différentes sections plus compliquées que les autres. L'ascension est difficile, mais la vue depuis les hauteurs en vaut la peine.
Agres
Si nous quittons la côte et entrons dans l'arrière-pays d'Alicante, à côté de la Sierra de Mariola, nous trouvons le village d'Agres. Plein de pentes raides, il est le point de départ de nombreux sentiers de randonnée à travers les montagnes, il est conseillé de visiter les puits de neige par la Route des Grottes.
Si vous préférez quelque chose de plus calme, dans la partie la plus haute d'Agres vous trouverez le paysage unique du Sanctuaire de la Virgen del Castillo. . Un endroit naturel entouré de végétation et de routes pavées qui est un régal pour les amateurs de photographie.
***
Alicante a beaucoup d'endroits d'intérêt qui valent la peine d'être visités. Découvrez ceux que nous vous indiquons et, si vous en connaissez d'autres, n'hésitez pas à le faire savoir.
Nos clients disent
Verificada
Relaxing holiday Fantastic stay. Hotel location perfect. Right on the prom. 2min walk to the beach. Rooms very nice . Pool clean . Pool bar . Food and drink excellent as were the staff. Minutes walk to numerous restaurants and bars. Would definitely return on holiday again but for longer the next time
Verificada
Dog friendly and great location Dog friendly which is hard to find in this area. We have a largish Labrador. Normally they allow small to medium sized dogs but when we called them they said he would be allowed to stay. He was given a nice bag of treats too on arrival. Spacious, clean rooms with balcony. Lovely pool, large restaurant with great food and hotel located next to huge sandy beach and coastal tram. Private parking. Very friendly staff. A great find while travelling in the busy summer period. Everything to hand without having to face the crowds. Thoroughly recommend.
Verificada
Super Hotel. I was in this hotel for the second time, it made an even better impression on us. Convenient location, a few steps to the beautiful beach, 20 minutes to the center of Alicante by train. At the hotel there is a swimming pool with sun loungers, umbrellas and a place for children. Varied breakfasts, delicious. The best is the staff of the hotel, professional, helpful, kind and smiling. I am already planning another stay in July. Andrew
Verificada
Great holiday to recommend. Rooms are large and clean, large balcony with a great sea view. The pool area invites you to swim and relax. The clean sandy beach can be reached in 2 minutes. Transport connections to the center/airport can be easily reached by tram and bus
Verificada
Relaxing break in the sun Almirante hotel is a peaceful hotel in a great location right beside the beautiful San Juan beach and tramline. The pool is a lovely area for relaxing around on loungers. The rooms have everything you need for a holiday and are comfortable. I had a premium room with coffee tea making facilities and a small fridge which is ideal. I didn't have breakfast in the restaurant which suited me fine as I prefer to get up and out early. The terrace was just perfect too, so all in all a hotel which provided everything I needed for a break away in the sunshine.
Verificada
The sea!! very nice! Beach is one minute walking and breakfast is amazing. It has a good swimming pool and employees are very nice. Very simple but clean. Very good experience. Hope to come back some day! Highly recommended
Verificada
Great hotel, clean and quiet Lovely hotel and very clean. We had a corner room so had amazing views of both the pool and the beach. Both the room and the bathroom were a really good size with plenty of storage. This hotel is located in a quiet part of Alicante which suited us during the day. There is a limited bar service by the pool. We would have preferred it if the pool opened at 10am or a bit earlier - 10:30 am seemed quite late. There was a good selection for breakfast. We did eat in the hotel restaurant one evening. The food was tasty but the menu was quite limited and it was more expensive than other restaurants in the centre of Alicante. The mojitos were excellent! We went at the end of May which doesn't seem to be high season, as the restaurants near the hotel / beach weren't open in the evening. It was easy enough to get a tram to the main part of the town, with the tram station only five minutes walk from the hotel and the journey taking less than 15 minutes; this was also cheap. We got taxis back later which cost about 15 euros. Taxis to / from the airport took about 25 minutes and cost about 40 euros. We would definitely go back.