El Teatro Principal de Alicante
El Teatro Principal de Alicante es uno de los edificios más característicos de la ciudad. Construido el 23 de septiembre de 1845 ante la necesidad de que Alicante contase con un teatro digno de su cultura, fueron dos aristócratas y dos familias de propietarios quienes impulsaron la idea.
El Teatro Principal de Alicante inició su andadura con el nombre de Teatro Nuevo, hasta que, en torno a 1900, comenzó a llamarse tal y como lo conocemos ahora. El edificio destaca por no tener ningún anexo y contar con una arquitectura neoclásica, mientras que el interior sigue la tipología italiana presentando una gran sala en forma de herradura y cuatro plantas.
El aforo del Teatro Principal de Alicante es de 1072 butacas, aunque el aforo útil son 960 localidades.
Actos destacados del Teatro Principal de Alicante
Óperas, zarzuelas, música y obras de teatro se han dado a centenares en el escenario del Teatro Principal de Alicante. Entre todas ellas, siempre hay alguna que destacar, y es que en las mismas tablas se han representado obras de Federico García Lorca desde 1930, otras de Ramón M. del Valle Inclán o incluso "Salomé" de Oscar Wilde.
Como curiosidad, en 1878 hubo un espectáculo con cuatro leones africanos en el teatro y, en 1896, el Teatro Principal de Alicante fue el lugar escogido para la primera sesión cinematográfica abierta al público alicantino que se realizaba en la ciudad.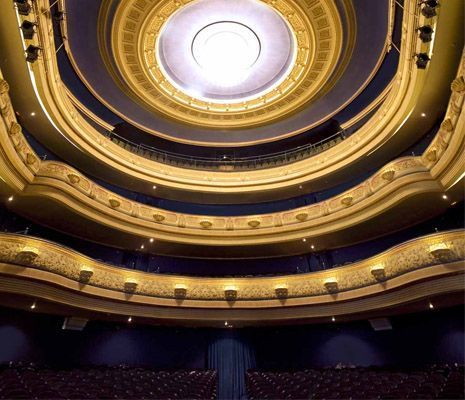 Programación actual del Teatro Principal
En la actualidad, el Teatro Principal de Alicante cuenta entre su programación una gran variedad de espectáculos que van desde conciertos, obras de teatro, musicales, danza, monólogos, magia o incluso circo.
Si vas a venir a Alicante y te hospedas en el Hotel Almirante, no dudes en informarte de la programación del Teatro Principal de Alicante durante los días de tu estancia. Seguro que encuentras algo que vaya con tus gustos.
Nuestros clientes opinan
Verificada
A 5 star experience at a 3 star Hotel Cycled to San Juan from Benidorm to BBQ with friends and decided to stay at this beautiful hotel for the first time.For a 3 star it was excellent and I'm not going to mark it down for a couple of minor issues - no kettle in the bedroom and for me the bed wasn't the most comfortable. But really, very minor issues overall.The staff were excellent, the room was clean and spacious with a decent sized balcony overlooking the pool, there was a place to park our bikes, breakfast was superb, prices very reasonable and the location was fabulous.Booking again for November. Well done Almirante. (I notice a third of your reviews are English - we love a cup of tea in the mornings. Most of us would even pay a couple of Euros extra). Thank you for a lovely stay.
Verificada
Absolute heaven!!!! Stayed here for three nights. The panorama room on the 1st floor was just perfect. The decor was lovely and the view in the morning of the blue sea and sunrise was just out of this world. The pool was amazing and really clean. Location is great and San Juan beach is just beautiful with clear azur waters - and warm water! Would come back again and again.
FotallyTocused
23/09/2022
Verificada
Very good - just a few things to tweak! Booked this hotel on the recommendation of a friend - and we were not disappointed. Good rooms. Clean. Good views. Close to a huge clean beach and also easy to get into town on the tram. Most of the staff very pleasant. Good value overall. To the management, a couple of suggestions:1/ Turn off the music by the pool. Who wants it?2/ Arrange for noisy gardening work (trimming etc) NOT to be done for a full day - especially on a Sunday! One or two hours at a time is better.3/ The buffet breakfast was great, but too much. Offer a simple croissant and coffee alternative please.Small things - if you don't change them, I'm coming back anyway!
Verificada
Como siempre Volvemos año tras año por todo. Ubicacion,servicios,precio pero cada año mejoran todo La atención de todos los departamentos es espectacular profesionales y empaticos. Es como estar en familia. Mil gracias y volvemos de nuevo
Verificada
Perfect beach holiday on Costa Blanca We found this hotel by far superior to others we have stayed in , in Spain . Nicer decor , quiet atmosphere, families there but never noisy while we were there. Mostly staff manage to be cheerful as they go about their work . The beach is just at the end of the hotels driveway . On the other side of the tram line . ( There is a safe crossing place , green light shows) The pool is clean and well maintained. Snack and drinks served beside the pool by friendly young people. Good food - once ate from the restaurant menu and otherwise enjoyed delicious bar meals . Lots of choice of breakfast. We had a superior room and really liked it- nice view of the palm trees and the beach and the sea. Small fridge and kettle. Nice big shower. Room cleaned every day when required. Towels changed regularly and pool towels provided Pity the tv has nothing on English . Nothing - ¡nada !Would recommend Hotel Almirante .
Verificada
Excelente en todo Teniendo en cuenta que es un 3 estrellas, es excelente en todo. Quizá las habitaciones algo pequeñas. Pero la nuestra tenía una terraza estupenda. El personal de 10. La ubicación inmejorable. En dos minutos estás en la playa. Sin duda muy recomendable.
Verificada
Great hotel, clean and quiet Lovely hotel and very clean. We had a corner room so had amazing views of both the pool and the beach. Both the room and the bathroom were a really good size with plenty of storage. This hotel is located in a quiet part of Alicante which suited us during the day. There is a limited bar service by the pool. We would have preferred it if the pool opened at 10am or a bit earlier - 10:30 am seemed quite late.There was a good selection for breakfast. We did eat in the hotel restaurant one evening. The food was tasty but the menu was quite limited and it was more expensive than other restaurants in the centre of Alicante. The mojitos were excellent!We went at the end of May which doesn't seem to be high season, as the restaurants near the hotel / beach weren't open in the evening. It was easy enough to get a tram to the main part of the town, with the tram station only five minutes walk from the hotel and the journey taking less than 15 minutes; this was also cheap. We got taxis back later which cost about 15 euros. Taxis to / from the airport took about 25 minutes and cost about 40 euros.We would definitely go back.