The Teatro Principal of Alicante
The Teatro Principal (Main Theatre) of Alicante is one of the most characteristic buildings in the city. Built on the 23rd September 1845 due to Alicante lacking a theatre worthy of its culture, the idea was championed by two aristocrats and two families of landowners.
The Teatro Principal of Alicante began life as the Teatro Nuevo (New Theatre), , until, around 1900, when it began to be called as we now know it. The building is characterised by not having any annexes and its neoclassical architecture, while the interior follows the Italian style with a large horseshoe-shaped auditorium and four storeys.
The total capacity of the Teatro Principal of Alicante is 1072 seats although the maximum useful capacity is 960 seats.
Prominent events at the Teatro Principal of Alicante
Hundreds of operas, zarzuelas, concerts and plays have been staged at the Teatro Principal of Alicante.Amongst all of these, there are always going to be some that stand out, and plays by Federico García Lorca, since 1930, others by Ramón M. del Valle Inclán or even "Salomé" by Oscar Wilde have been staged on these boards..
Curiously, , in the theatre and, in 1896, the Teatro Principal of Alicante was the place chosen for the first film screening open to the Alicante public to take place in the city.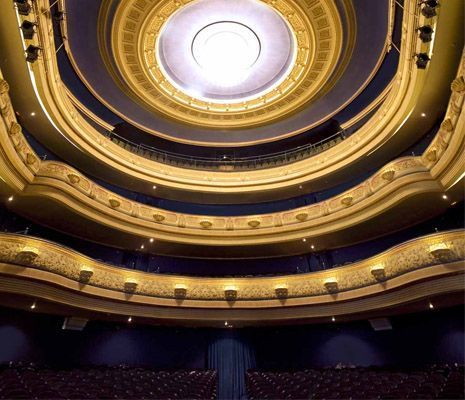 Current programme at the Teatro Principal
Currently, the Teatro Principal of Alicante's programme offers a wide variety of shows ranging from concerts, plays, musicals, dance, monologues, magic or even circus.
If you are going to come to Alicante and stay at Hotel Almirante, do not hesitate to check the programme at the Teatro Principal of Alicante during your visit. You are sure to find something you will like.
Our customers say
Caroline I.
"Myself and my family stayed here for just over a week. The hotel is in a great location, literally right beside the beach and the tram stop is also less than a 5minute walk away which is great for getting into town."
Marla13
"The hotel itself is beautiful with a lot of detail having gone into the design of the rooms-the automatic shutting blinds is a first for me and a great touch to keep the light out of the room for good sleep. The rooms are clean and the Premium rooms stocked with all you need"
George L.
"Excellent hotel, first class service all round. Spotless and great attention to detail. Great location at San Juan beach and only 15mins on tram to Alicante centre."