Conoce el nuevo auditorio de la provincia de Alicante, ADDA
El Auditorio de Diputación de Alicante, ubicado en pleno centro de la cuidad y comúnmente conocido como ADDA, nace con la misión de convertirse en referente del turismo de congresos de la ciudad.
Distribuidas entre sus tres plantas, el ADDA cuenta con salas para coloquios, congresos, eventos, exposiciones y conferencias y con vestuarios y salas de descanso y ensayo para los artistas.
Su diseño es moderno e innovador, un juego de colores elegidos con el fin de representar a los artistas y sus instrumentos. Además está construido de tal manera que está protegido de los rayos del sol.
A continuación puedes ver la programación:
Temporada Sinfónica:
ORQUESTA FILARMÓNICA DE LUXEMBURGO
Sábado 5 de noviembre, a las 20:00h
ORQUESTA SINFÓNICA DE LA RADIO STUTTGART
Viernes 18 de noviembre, a las 20:00h
ORQUESTA DE VALENCIA
Viernes 2 de diciembre, a las 20:00h
ORQUESTA FILARMÓNICA DE LONDRES
Viernes 18 de noviembre, a las 20:00h
ORQUESTA NACIONAL ESCOCIA
Lunes 16 de enero, a las 20:00h
ORQUESTA DE LA SUISSE ROMANDE
Viernes 3  de febrero, a las 20:00h
CAMERATA SALZBURG
Lunes 13 de febrero, a las 20:00h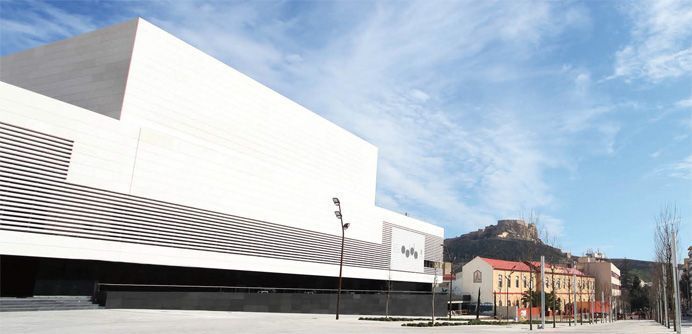 ORQUESTA DE VALENCIA
Viernes 31 de marzo, a las 20:00h
ORQUESTA SINFONICA CHAIKOVSKI MOSCU
Viernes 27 de abril, a las 20:00h
ORQUESTA FILARMONICA BBC
Jueves 11 de mayo, a las 20:00h
ORQUESTA SINFONICA RADIO FRÁNCFORT
Viernes 26 de mayo, a las 20:00h
CICLO BEETHOVEN 
Disfruta de una serie de conciertos que te transmitirán una mezcla de presente y pasado.
OTROS CICLOS DE INTERÉS
Festival internacional de jazz
Ciclo internacional de guitarra
Ciclo de música antigua
Ciclo flamenco
Ciclo bandas de música
Ciclo jóvenes músicos
Para obtener más información acerca de la programación puedes clicar aquí.
Si te interesa reservar una sala accede aquí o tienes dudas de cómo llegar sigue este enlace.
Nuestros clientes opinan
Verificada
Relaxing holiday Fantastic stay. Hotel location perfect. Right on the prom. 2min walk to the beach. Rooms very nice . Pool clean . Pool bar . Food and drink excellent as were the staff. Minutes walk to numerous restaurants and bars. Would definitely return on holiday again but for longer the next time
Verificada
Dog friendly and great location Dog friendly which is hard to find in this area. We have a largish Labrador. Normally they allow small to medium sized dogs but when we called them they said he would be allowed to stay. He was given a nice bag of treats too on arrival. Spacious, clean rooms with balcony. Lovely pool, large restaurant with great food and hotel located next to huge sandy beach and coastal tram. Private parking. Very friendly staff. A great find while travelling in the busy summer period. Everything to hand without having to face the crowds. Thoroughly recommend.
Verificada
Super Hotel. I was in this hotel for the second time, it made an even better impression on us. Convenient location, a few steps to the beautiful beach, 20 minutes to the center of Alicante by train. At the hotel there is a swimming pool with sun loungers, umbrellas and a place for children. Varied breakfasts, delicious. The best is the staff of the hotel, professional, helpful, kind and smiling. I am already planning another stay in July. Andrew
Verificada
Great holiday to recommend. Rooms are large and clean, large balcony with a great sea view. The pool area invites you to swim and relax. The clean sandy beach can be reached in 2 minutes. Transport connections to the center/airport can be easily reached by tram and bus
Verificada
Relaxing break in the sun Almirante hotel is a peaceful hotel in a great location right beside the beautiful San Juan beach and tramline. The pool is a lovely area for relaxing around on loungers. The rooms have everything you need for a holiday and are comfortable. I had a premium room with coffee tea making facilities and a small fridge which is ideal. I didn't have breakfast in the restaurant which suited me fine as I prefer to get up and out early. The terrace was just perfect too, so all in all a hotel which provided everything I needed for a break away in the sunshine.
Verificada
The sea!! very nice! Beach is one minute walking and breakfast is amazing. It has a good swimming pool and employees are very nice. Very simple but clean. Very good experience. Hope to come back some day! Highly recommended
Verificada
Great hotel, clean and quiet Lovely hotel and very clean. We had a corner room so had amazing views of both the pool and the beach. Both the room and the bathroom were a really good size with plenty of storage. This hotel is located in a quiet part of Alicante which suited us during the day. There is a limited bar service by the pool. We would have preferred it if the pool opened at 10am or a bit earlier - 10:30 am seemed quite late. There was a good selection for breakfast. We did eat in the hotel restaurant one evening. The food was tasty but the menu was quite limited and it was more expensive than other restaurants in the centre of Alicante. The mojitos were excellent! We went at the end of May which doesn't seem to be high season, as the restaurants near the hotel / beach weren't open in the evening. It was easy enough to get a tram to the main part of the town, with the tram station only five minutes walk from the hotel and the journey taking less than 15 minutes; this was also cheap. We got taxis back later which cost about 15 euros. Taxis to / from the airport took about 25 minutes and cost about 40 euros. We would definitely go back.