Discover the ADDA, Alicante province's new auditorium
El The Auditorium of the Provincial Council of Alicante, located in the heart of the city centre and commonly known as the ADDA, was conceived with the mission of becoming the benchmark for the city's conference tourism industry.
Spread across the three floors of the ADDA are rooms for discussion groups, conventions, events, exhibitions and conferences as well as dressing rooms and rooms for the artists to relax and rehearse.
Its design is modern and innovative, a pallet of colours chosen to represent the artists and their instruments. Furthermore, it has been built so that it is protected from the sun's rays.
Below you can see the programme:
Symphonic Season:
PHILHARMONIC ORCHESTRA OF LUXEMBOURG
Saturday, 5th November at 20:00 hours
STUTTGART RADIO SYMPHONY ORCHESTRA
Friday, 18th November at 20:00 hours
VALENCIA ORCHESTRA
Friday, 2nd December at 20:00 hours
LONDON PHILHARMONIC ORCHESTRA
Friday, 18th November at 20:00 hours
SCOTTISH NATIONAL ORCHESTRA
Monday, 16th January at 20:00 hours
SWISS ROMANDE ORCHESTRA
Friday, 3rd February at 20:00 hours
CAMERATA SALZBURG
Monday, 13th February at 20:00 hours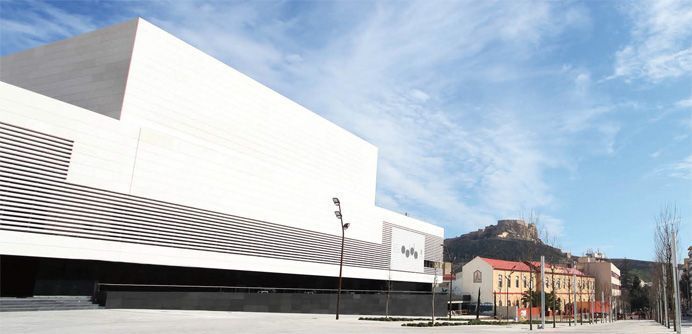 VALENCIA ORCHESTRA
Friday, 31st March at 20:00 hours
TCHAIKOVSKY SYMPHONY ORCHESTRA OF MOSCOW
Friday, 27th April at 20:00 hours
BBC PHILHARMONIC ORCHESTRA
Thursday, 11th May at 20:00 hours
FRANKFURT RADIO SYMPHONY ORCHESTRA
Friday, 26th May at 20:00 hours
BEETHOVEN CYCLE
Enjoy a series of concerts conveying a blend of past and present.
OTHER CYCLES OF INTEREST
International jazz festival
International guitar cycle
Ancient music cycle
Flamenco cycle
Band music cycle
Young musicians cycle
To obtain more information about the programme, you can click here.
If you are interested in booking a room, gain access here or if you have doubts about how to get there, follow this link.
Our customers say
Caroline I.
"Myself and my family stayed here for just over a week. The hotel is in a great location, literally right beside the beach and the tram stop is also less than a 5minute walk away which is great for getting into town."
Marla13
"The hotel itself is beautiful with a lot of detail having gone into the design of the rooms-the automatic shutting blinds is a first for me and a great touch to keep the light out of the room for good sleep. The rooms are clean and the Premium rooms stocked with all you need"
George L.
"Excellent hotel, first class service all round. Spotless and great attention to detail. Great location at San Juan beach and only 15mins on tram to Alicante centre."