Discover the ADDA, Alicante province's new auditorium
El The Auditorium of the Provincial Council of Alicante, located in the heart of the city centre and commonly known as the ADDA, was conceived with the mission of becoming the benchmark for the city's conference tourism industry.
Spread across the three floors of the ADDA are rooms for discussion groups, conventions, events, exhibitions and conferences as well as dressing rooms and rooms for the artists to relax and rehearse.
Its design is modern and innovative, a pallet of colours chosen to represent the artists and their instruments. Furthermore, it has been built so that it is protected from the sun's rays.
Below you can see the programme:
Symphonic Season:
PHILHARMONIC ORCHESTRA OF LUXEMBOURG
Saturday, 5th November at 20:00 hours
STUTTGART RADIO SYMPHONY ORCHESTRA
Friday, 18th November at 20:00 hours
VALENCIA ORCHESTRA
Friday, 2nd December at 20:00 hours
LONDON PHILHARMONIC ORCHESTRA
Friday, 18th November at 20:00 hours
SCOTTISH NATIONAL ORCHESTRA
Monday, 16th January at 20:00 hours
SWISS ROMANDE ORCHESTRA
Friday, 3rd February at 20:00 hours
CAMERATA SALZBURG
Monday, 13th February at 20:00 hours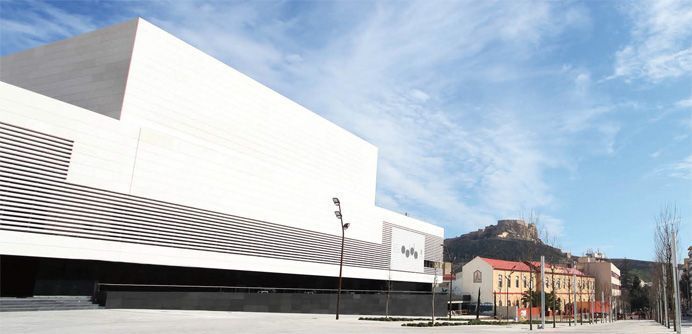 VALENCIA ORCHESTRA
Friday, 31st March at 20:00 hours
TCHAIKOVSKY SYMPHONY ORCHESTRA OF MOSCOW
Friday, 27th April at 20:00 hours
BBC PHILHARMONIC ORCHESTRA
Thursday, 11th May at 20:00 hours
FRANKFURT RADIO SYMPHONY ORCHESTRA
Friday, 26th May at 20:00 hours
BEETHOVEN CYCLE
Enjoy a series of concerts conveying a blend of past and present.
OTHER CYCLES OF INTEREST
International jazz festival
International guitar cycle
Ancient music cycle
Flamenco cycle
Band music cycle
Young musicians cycle
To obtain more information about the programme, you can click here.
If you are interested in booking a room, gain access here or if you have doubts about how to get there, follow this link.
Our customers say
Verificada
Excelencia en el trato al cliente. La primera noche se nos presentó un problema y tanto el personal de recepción como la dirección del hotel se esmeraron en solucionarlo. Hicieron que nuestra estancia en el hotel superará nuestras expectativas con un trato exquisito en todo momento haciendo que nuestra estancia haya sido muy especial. Nos marchamos con la seguridad de que repetiremos sin duda.
Verificada
Gracias!!! En 2021 tuvimos la oportunidad de conocer este hotel en una escapada en pareja por la zona de Alicante, nos encantó y este año decidimos volver a pasar el fin de año en familia y todavía nos ha sorprendido más! 3 estrellas que bien podría ser 4, instalaciones sencillas pero con muy buen gusto, reformado (aunque esta vez la habitación triple que nos ha tocado no lo estaba), pero todo lo demás lo compensa!La cena de fin de año en el restaurante Pocardy que pertenece al hotel, nos han hecho sentir como si estuviéramos en casa. Especial mención a la camarera que nos atendió fenomenal, Toñi,gracias!Podía extenderme mucho más, han sido unos días muy especiales!!!!!!Volveremos seguro si Dios quiere!GRACIAS!!!!!
Verificada
Increíble experiencia Increíble vistas y super bonito y limpio el hotel en si,trato en recepción y el desayuno uno de los mejores que he probado.Recomiendo las habitaciones de frente al mar por las vistas si os gusta ver el amanecer es super bonito y si vienes con tu pareja te encantará.
Verificada
¡¡ Todo fenomenal, el hotel y su gente.!!! Fantástico rincón en la Playa de San Juan, El hotel tiene un encanto especial, muy acogedor arropado por las Palmeras y jardines de la entrada, así como la piscina que te llama poderosamente la atención . El edificio parece un vintage de Miami, el color de la fachada nos fascinó .El servicio de atención del personal tanto de recepción como del bar es inmejorable y si te fijas están constantemente pendientes de la limpieza y mantenimiento de los jardines.El restaurante , fenomenal , carta diversa y todo muy rico y si tomas en la terraza te encantará.Parking privado muy cómodo al igual que el acceso al paseo Marítimo ,paseo plagado de palmeras y la vista de la playa espectacular , vamos Playón …y todo amenizado con el pasar del Trenet .Es como si hubieras estado antes, me ha enamorado el lugar.
Verificada
A 5 star experience at a 3 star Hotel Cycled to San Juan from Benidorm to BBQ with friends and decided to stay at this beautiful hotel for the first time.For a 3 star it was excellent and I'm not going to mark it down for a couple of minor issues - no kettle in the bedroom and for me the bed wasn't the most comfortable. But really, very minor issues overall.The staff were excellent, the room was clean and spacious with a decent sized balcony overlooking the pool, there was a place to park our bikes, breakfast was superb, prices very reasonable and the location was fabulous.Booking again for November. Well done Almirante. (I notice a third of your reviews are English - we love a cup of tea in the mornings. Most of us would even pay a couple of Euros extra). Thank you for a lovely stay.
Verificada
Absolute heaven!!!! Stayed here for three nights. The panorama room on the 1st floor was just perfect. The decor was lovely and the view in the morning of the blue sea and sunrise was just out of this world. The pool was amazing and really clean. Location is great and San Juan beach is just beautiful with clear azur waters - and warm water! Would come back again and again.
Verificada
Great hotel, clean and quiet Lovely hotel and very clean. We had a corner room so had amazing views of both the pool and the beach. Both the room and the bathroom were a really good size with plenty of storage. This hotel is located in a quiet part of Alicante which suited us during the day. There is a limited bar service by the pool. We would have preferred it if the pool opened at 10am or a bit earlier - 10:30 am seemed quite late.There was a good selection for breakfast. We did eat in the hotel restaurant one evening. The food was tasty but the menu was quite limited and it was more expensive than other restaurants in the centre of Alicante. The mojitos were excellent!We went at the end of May which doesn't seem to be high season, as the restaurants near the hotel / beach weren't open in the evening. It was easy enough to get a tram to the main part of the town, with the tram station only five minutes walk from the hotel and the journey taking less than 15 minutes; this was also cheap. We got taxis back later which cost about 15 euros. Taxis to / from the airport took about 25 minutes and cost about 40 euros.We would definitely go back.